Texas Business Attorney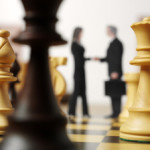 At the Law Office of Elena Vlady, we give clients our undivided attention. Each business owner or private individual seeking legal counsel and representation is treated like our only client.
We understand the concerns and needs of small and medium-sized businesses and business owners. From our office in Austin, we serve clients throughout Texas. Our business, commercial and real estate clients appreciate our pragmatic approach to legal representation. We handle business legal matters in a direct, results-oriented fashion. We will use our best efforts to achieve results.
Businesses enter into contracts almost on a daily basis. It is critical that contracts include all material aspects of the transactions. A proper contract is the cornerstone of all of your business relationships. It will define each party's expectations, the payments required, your remedies in the event of default, the limits to your liability, and other important clauses. We can represent you or your business in any of these transactions:
Trademark infringement
Proposals – An offer to enter into a contract
Master Service agreements – The primary agreement which controls when services are to be rendered on multiple occasions
Independent Contractor Agreements
Contractual disputes (including collections and enforcement of obligations)
Choosing the right structure of operation (e.g., limited liability company (LLC), corporation, DBA, partnership)
Business formation or dissolution
Dissolution and internal reorganizations
Formation of tax-exempt not-for-profit companies (e.g. 501(c)(3))
Organizational documents, including charter and by-laws
Partnership/Operating Agreements
Retained Flat Rate General Counsel Services
We encourage you to
call us
 to discuss your company's legal needs.